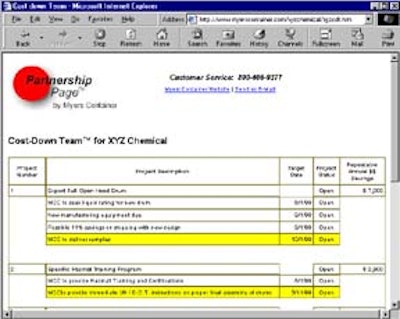 The supplier has recently launched a Web-based order entry system for its customers, who are either distributors or large end users.
The drum maker modeled its Web-based order entry system on Dell Computer's Premier Pages, which allow large companies to custom-configure their own section of the site to maximize purchasing efficiency. Indeed, each customer's Partnership Pages™, as Myers is calling them, is customized to its needs, according to the company.
The site does a good job of integrating technical information into the ordering process. For example, the order form consists of a chart listing each of the company's drums, along with some basic technical specs. Users can simply fill in the quantity of drums desired (along with a purchase order number) and click a "Submit" button. Or, if more information is desired, clicking on the model number of each drum brings up a detailed page of specs, including a dimensional drawing.
The site also permits the ability to review open orders, which consist of a printout of all open purchase orders. Complete year-to-date order history is available as well. That report consists of a simple chart showing the number of drums that were ordered each month, broken down by drum model number.
But what was most interesting about the site was a section that Myers created called Cost-Down Team™ Tracking Log. Essentially this is an on-line cost-reduction tool. A joint team, consisting of personnel from Myers and each customer, meets quarterly "to discuss driving costs out of buying packaging," explains Kyle Stavig, Myers vice president of sales/marketing. "We track everything we do with our customer," says Stavig, giving the team a wealth of data to analyze for cost-reduction purposes.
Changes can then be made to lower costs. Examples include changing specs on a drum, or more often, adds Stavig, changing some aspect of how the customer places or receives an order, right down to how the drums are palletized for delivery. It could also result in changes in training. Each item in the tracking log is assigned a dollar figure representing repeatable annual savings.
Since the Myers' Partnership Pages™ were launched in August '99, Myers counts more than 30 companies as users with 10 more on the runway. The company had initially expected only a handful by this time. By the end of the year, Stavig expects up to half the firm's business to be conducted this way.