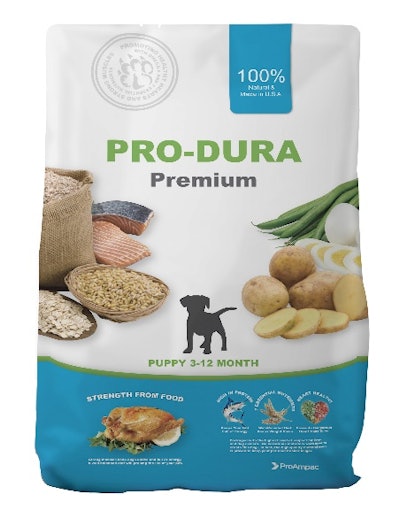 ProAmpac, a global flexible packaging company, is showcasing their newest line of pet food packaging, PRO-DURA™ Premium, at the 2017 Petfood Forum in Kansas City, MO. This new dry food packaging is a woven polypropylene bag by design, with an innovative film-like exterior, that runs on existing multi-walled bag machinery.
PRO-DURA Premium is the perfect cost effective solution for premium packaging, ideal for dry food applications. This clever woven bag delivers strength and durability along with a premium film-like finish to enhance store-shelf presence. This Premium bag's value added design solves common multi-wall bag challenges such as bag breakage, product spillage and wrinkled bag appearance.
Additional benefits of the PRO-DURA Premium bag are the option of a thermo-seal weld. This option not only provides increased machine efficiencies and 25% more bags per pallet over standard multi-walled paper hot melt methods, but also provides extra sealing product protection from external environmental factors. Minimal change to the existing multiwall paper or filling infrastructure is required. Add-on features such as easy-to-open and reclosable openings add consumer convenience to the PRO-DURA Premium bag line.
"Pro-Dura Premium is a very exciting evolutionary new product for us to share with our customers. It came to market at a critical time with the pet food premiumization trend rising. Our customers are drawn to the durability, affordability and quality of our PRO-DURA standard woven bags, but are seeking a premium exterior bag finish for brand diversification on the store shelf," says Julie Conklin, ProAmpac's Market Manager for Pet Food. "We are very excited to be able to not only meet this packaging need, but also assure our customers it requires minimal filling line changes to their existing woven or multi-wall paper lines. Avoiding a large cost investment is a huge gain for our customers."
Companies in this article