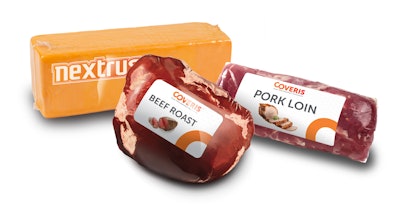 Coveris announces the Nextrus line of shrink bag technology, the next generation of protein packaging solutions, offering innovations in sustainability, performance, and shelf appeal of products. Nextrus' shrink capabilities allow for vacuum tightness with less packaging, an eco-friendly alternative to current products in the marketplace.
"One of consumer's top concerns when they go shopping is the appearance of meat in the package," says Rebecca Casey, marketing director at Coveris. "Our new and innovative Nextrus line features premium gloss that creates a low level of haze, allowing the product to shine through with maximum clarity and visibility. This reassures consumers that they are purchasing the freshest meat available."
By working closely with its suppliers, Coveris has employed newly engineered resins that are more environmentally friendly. The resins used ensure superior seal integrity by reducing leaks and providing puncture resistance and excellent oxygen and moisture barriers so products look fresher and are protected during delivery.
Nextrus bags use a barrier system that eliminates the potential for the yellowing tendencies of traditional protein packaging solutions. The outside PET layer and 10-color front and back printing promotes the product brand and shines on the shelf, attracting customers to the package.
Companies in this article