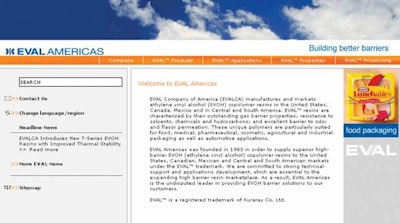 To provide its customers with additional information regarding its EVOH copolymer resins, the company recently launched its redesigned Web site.
The new site provides users with a variety of facts on EVAL® barrier resins and films. In addition to general product information, Evalca.com includes detailed comparison data between EVAL and other polymers, including barrier properties such as oxygen transmission rate.
"Most of the data on the Web site took years to develop," says George Avdey, vice president of sales and marketing with EVAL Americas.
The Web site also outlines EVAL Americas' contribution to the food and beverages, cosmetics, industrial, and automotive industries in an easy-to-navigate, pull-down-menu format.
Detailed information on the EVAL resins, products, properties, and processing is also available for surfing. Users can also download technical bulletins on EVAL resins.
Evalca.com is equipped with a "search" option, "headline" news, and an easy link to different language options. Users can also use the site to find helpful information on recommended processing techniques, examples of multi-layer packaging structures in the various markets, and photos of EVAL resin applications.