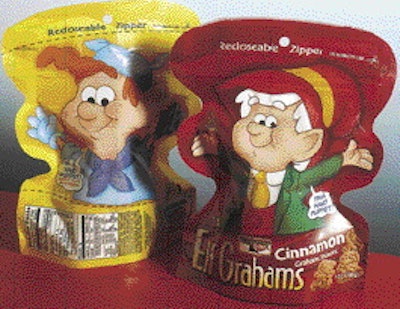 Dotted lines and copy that reads, "to make puppet, cut empty bag here," show consumers where to cut the pouch to provide space for a hand. Sold in both honey and cinnamon versions, the collectible packs feature images of Keebler's Ernie the Elf on front panels and other "Elfin friends" on back panels.
Approximately 41/2 mils in total thickness, the film used for the premade "hand puppet" pouch comes from Pechiney Plastic Packaging (Chicago, IL). Steve Carter, Keebler's manager of package development, says the material includes an exterior polyester layer/white polyethylene extrudate/inner linear low-density PE sealant layer. The polyester is reverse-printed by gravure in eight colors. Pouches also include a recloseable zipper, supplied by Minigrip/Zip-Pak (Manteno, IL).
Carter says the contour pouch represents a first for Keebler. As such, it poses a challenge. "It's much more difficult to make and seal than a typical straight-sided bag," he admits. For the launch, Keebler semi-automatically filled the pre-made pouches through the top and heat-sealed them at its Athens, GA, plant. The company expects to automate bag opening/filling/sealing at the plant by November. While it won't reveal the equipment supplier, industry observers suggest it will likely be Nishibe, represented in the U.S. by Profile Packaging (Sarasota, FL).
Now reaching nationwide distribution, Elf Grahams sell for $1.99 to $2.49. Shelf life is six months. According to Peggy Holden, manager of packaging research, "We've had nothing but positive response to the pouch."
Companies in this article