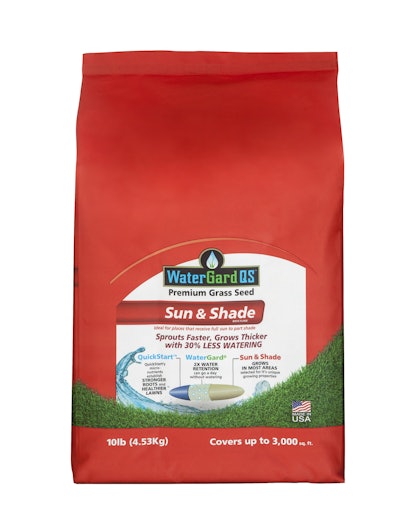 Salem, OR-based Mountain View Seeds, one of the largest integrated seed companies in the U.S., prides itself on its use of intensive research to develop innovative, high-performance products. With the introduction of its WaterGard QS Premium Grass Seed family, Mountain View was looking for an equally innovative package that could provide differentiation on shelf as well as enhanced merchandising opportunities. The solution was a cube-shaped, stackable, flexible pouch—the ConservaCube™—from ConservaCube, LLC.
"We learned about the ConservaCube through a brochure and thought the way it merchandised on pallet was interesting versus the traditional 20-pound layflat bag," says Mountain View Vice President Retail Division Troy Weidenbach. "It made a nice presentation. We chose it for the shelf-impact value."
Mountain View's WaterGard QS was introduced in spring 2015 in two varieties—Drought Defy and Sun & Shade—in 10- and 18-oz ConservaCube pouches, in retail stores nationwide. The ConservaCube gets its strength and dimensional stability from a trademarked internal baffle design that allows the pouch to stand rigid once filled. Its cube shape results in four display panels for branding, and its ability to be stacked on shelf allows products such as grass seed, typically merchandised laying flat in a bag, to be more effectively marketed.
According to Weidenbach, six 18-lb ConservaCube packs can be displayed on shelf in place of three layflat bags. "You can put the cubes on top of one another and double the number of units you can get in the same space," he explains.
The "cubular" pouches also stack more efficiently on a pallet. With traditional 18-lb seed bags, just 60 packs fit on one pallet. With the ConservaCube, 100 units can be stacked on each pallet, resulting in reduced freight and warehousing costs. The load is also more stable, Weidenbach says.
The ConservaCube offers environmental benefits as well. The pouch is constructed of a single material, polyethylene, that can be recycled through store take-back programs. For Mountain View, ConservaCube designed a two-layer structure made from a clear PE/adhesive/white coextruded PE, "as barrier materials are not required for this product," explains Rick Sullivan, Vice President of ConservaCube. "The total gauge of 4 mil was determined based on the weight of the filled packages," he adds.
The ConservaCube also reduces material versus the standard layflat bag used for seed products—at least 25% less, estimates Weidenbach. "We don't have the potato chip effect anymore," he says. "If you stand a bag of grass seed on its bottom, it's only about two-thirds full. With the ConservaCube, we are utilizing the entire bag."
Mountain View is also taking full advantage of the pouch's four display panels, which make it ideal for the club-store environment, where packages are marketed on pallets. The pouches are flexo-printed in eight colors with graphics created by Jordan Miller Design. They consist primarily of an illustration depicting the three layers of the WaterGard QS technology—the seed, the WaterGard polymer, and the QuickStart micronutrient package—that help the consumer grow a strong and healthy lawn.
Mountain View uses existing packaging equipment to fill the pouches: a manual open-mouth bag filling system and a band sealer with trimmer. Sullivan adds that ConservaCube supplied Mountain View with a diverter that attaches to the filling spout to ensure proper filling of the packages. No other machinery adjustments were required.
Says Weidenbach, retailers have responded positively to the package: "They like the way it merchandises on shelf, especially during peak weekends during the spring season.
"The bag does a really nice job. It's very durable; it doesn't burst. Regardless of how it's handled, it continues to look nice when it's put back on the shelf."
Companies in this article