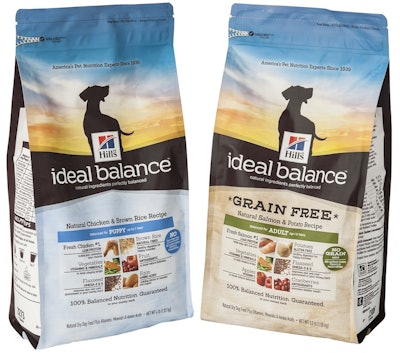 Topeka, KS-based Hill's Pet Nutrition Inc. is integrating PRESS-LOK® closure technology from Velcro Industries into some of its pet food packaging to ensure an easy, consumer friendly experience. The new packages are produced by Peel Plastic Products Ltd.
The PRESS-LOK closure contains an easy alignment that allows the hooks to engage without precise line-up, securing closure with great burst strength to maintain the package integrity that Hill's Science Diet customers expect. The PRESS-LOK closure has an audible click, allowing consumers to hear their pet food packages open and close, ensuring a tight seal, even if kibble crumbs get on the fastener surface.
Founded more than 60 years ago with a commitment to pet nutrition and wellbeing, Hill's is committed to its mission to help enrich and lengthen the special relationships between people and their pets.
"There are many tangible consumer benefits that the PRESS-LOK closure system provides to our Hill's Science Diet packaging," says Christopher Rector, director of marketing of Hill's U.S. "The PRESS-LOK application provides a fast, effective, and stress-free bag closure solution. PRESS-LOK closure opens and closes easily and quickly, keeping the kibble in and the paws out."
Hill's Science Diet® pet foods packaging with VELCRO-brand closures are available through veterinary clinics and finer pet specialty stores.
Companies in this article