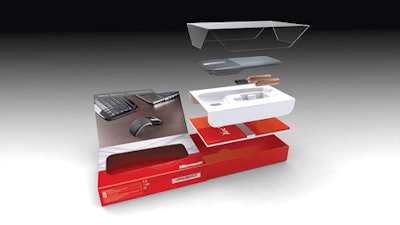 The premium, wireless mouse pops up into a curved shape for comfort during use and flattens for storage and portability. It features Microsoft's first touch-scroll strip for easy navigation by moving a finger slowly for controlled scrolling or flicking it for hyperfast scrolling.
Microsoft Corp., Redmond, WA, wanted a package that supports these advanced features—and the mouse's $70 price point. It opted for a carton that spotlights the mouse during package opening, with a graphic design that communicates the mouse's folding and arching mechanism on the carton's outer top spine.
"We solicited feedback from our subsidiaries around the world about our potential package designs," says Cathy Moya, Microsoft user experience manager. "We also went into people's homes in the Seattle area and watched them open the box and use the mouse."
From that research comes a fifth-panel carton, provided by Starlite Holdings Ltd. and designed with assistance from MeadWestvaco, that showcases product benefits and boasts 30% post-consumer recycled water bottle flakes in the plastic packaging components. The other 70% is virgin APET.
The mouse and accessories nestle in a tray in the primary carton. The carton is screen-printed in six colors plus a UV coating. The mouse is less than 15 mm thick, and it lies flat inside the package.
The molded-pulp tray, from Sun Union Environmental Packaging, slips inside a fifth-panel carton that contains a film-covered, die-cut window. The mouse is positioned in the tray so it clearly is the center of attention when the user opens the package. In addition, a photograph of the mouse is embossed on the carton's outer fifth panel, and the inner panel features a photograph of a desktop in wAhich the mouse is displayed in "working" position.
"The goal behind the Arc Touch Mouse packaging was to 'bend the rules' on a reduced-size package, and to design it in a way that conveys the thin profile of this unique product, blending a compact design with convenience and logic," says Jill Geurts, Microsoft structural packaging engineer. "It pushes us to use less materials and fewer words to communicate the value proposition of the product. It offers versatile assortment options at retail, including a hang-tab, yet a design that stands on shelves or in P-O-P displays more easily."
Companies in this article