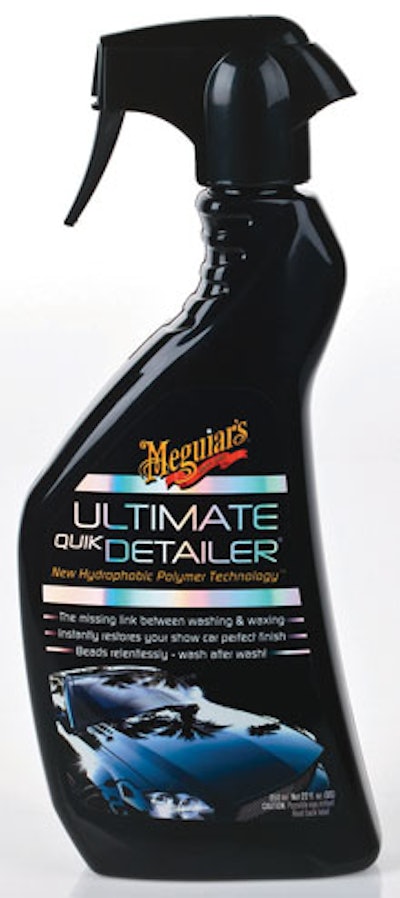 Ultimate Quik Detailer is marketed as a "high-bead, deep-gloss spray detailer" that depends upon Meguiar's new Hydrophobic Polymer Technology™ to repel water and add finish protection.
Packaging for the product, a glossy-black, 22-oz trigger-spray bottle from a proprietary supplier, uses a special, prismatic label stock and a stylized car image to convey the "product's incredible gloss and depth of color," says Meguiar's president and CEO Barry Meguiar.
Base material for the bottle's pressure-sensitive label is WS Packaging's (www.wspackaging.com) Promo Prism®, a 2-mil polyester film with a clear overlaminate that provides a holographic rainbow effect. The label was UV offset-printed in four colors, with an additional color applied with UV flexo, on a Nilpeter (www.nilpeter.com) MO modular press at WS's Algoma, WI, facility.
"When you combine the technical capabilities with the multicolor holographic reflective characteristics of the Promo Prism base stock, the end result is a label that offers dimensional impact at the shelf," says WS COO Scott Fisher. Agrees Meguiar, "Graphically, the label material captured the shelf presence we sought while working with our creative design goals." He adds that response to the product (which retails for $9.99) from both retailers and consumers has been "overwhelmingly positive, with sales and distribution exceeding expectations. Retailers have embraced the Ultimate brand's imagery, and consumers rave about the product's results, both in glossiness and water beading," says Meguiar.
In March, the Meguiar's Ultimate Quik Detailer label was among 10 designs chosen for first-place honors in the Tag and Label Manufacturer's Institute's (TLMI [www.tlmi.com]) World Label Assn. Awards competition.
Companies in this article