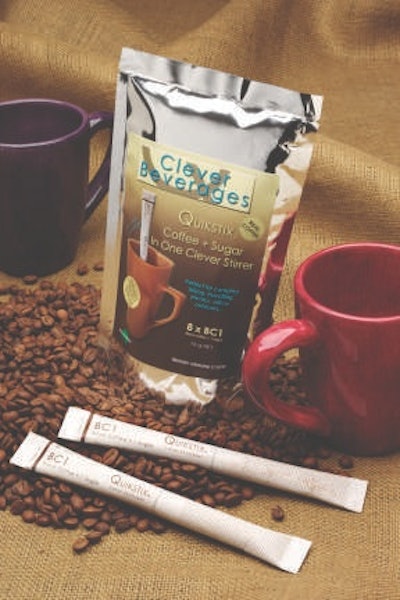 Tear, tip, stir, and sip are the only instructions needed to prepare a cup of coffee or tea with sugar using Quikstix Australia P/L's new Quikstix stick-pack beverage infuser. Invented by company founder Dave Hopper, the Quikstix product is designed around a segmented tube. On one side , the tube is perforated and holds coffee grounds or tea leaves that are infused when the stick is stirred in the liquid. The other side, with a tear-off end, holds fresh beverage accompaniments, such as cream and/or sugar.
"As a delivery device, Quikstix can be loaded with nearly any combination of ingredients," says Hopper. "For example, you could use it for hot chocolate and mini marshmallows, for medical applications such as hot flu drinks with real lemon pieces—the applications are endless."
Quikstix in BC1 (coffee with one sugar) and BT1 (tea with one sugar) varieties was launched in 2007 in camping stores across Australia, where it has met with great acceptance. To create expanded Quikstix beverage varieties and to increase production capabilities, Hopper says he must sell the patented technology to a larger company that can "put a rocket under it."
Construction details
As Hopper explains, the intellectual property for Quikstix includes the tube components and packaging equipment. The Quikstix package is constructed of a proprietary, paper tube divided into two sections. The stick is manufactured from food-grade, plastic-coated, 100% recycled kraft paper that is chlorine- and bleach-free. The internal dividing plug is molded from polypropylene, but can be constructed from bioplastic, Hopper says, to make the Quikstix 99% biodegradable.

Stick material is printed on a narrow-web flexo press and is formed, filled, and sealed by Quikstix Australia at its Glebe, NSW, facility, using custom-built, first-generation pilot machines. "All it takes is money for the next generation machine to improve efficiency," says Hopper.
For retail, Quikstix are sold in quantities of 8 (BC1) and 10 (BT1) tubes in a secondary pouch for $5 apiece. The pouch is constructed of polyvinylidene chloride-coated PET/low-density polyethylene, chosen for its ability to retain product freshness and its labeling flexibility. Quikstix are also available in a 50-unit resealable pouch for foodservice.
Companies in this article