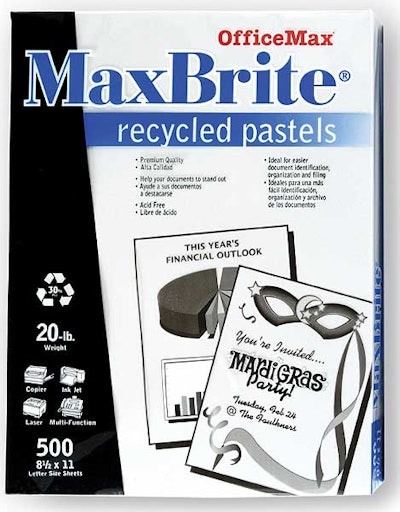 A panel of four independent judges recognized two Golden Mummy winners and two Pyramid winners.
Golden Mummy winners are OfficeMax Paper Ream wrap from Boise Cascade Office Products, converted by Coating Excellence Intl., and Tootsie Roll Midgees from Tootsie Roll Industries, Inc., converted by C-P Flexible Packaging.
Boise Cascade produces and packages high-end copier paper sold in hundreds of OfficeMax stores throughout the country. Coating Excellence Intl. worked closely with ExxonMobil's technical team to develop a packaging material with the differential coefficient of friction necessary to handle the demands of Boise Cascade's high-speed wrapping lines. The solution, ExxonMobil's Bicor® ARW, is a bilayer oriented polypropylene film that maintains stiffness and clarity throughout the machining process. The resulting lamination combines exceptional durability with a premium appearance.
Tootsie Roll wanted to improve the barrier capabilities of its wrap and boost shelf appeal. The material selected was Bicor® 50 LBW with ExxonMobil's Metallyte®50 TSPM, which improves graphic visibility on store shelves and increases product freshness and softness.
Additionally, Pyramid Awards for labels were bestowed on Apple & Eve and converter Hammer Lithograph for Label-Lyte® LS-447 film used in a label that fits snug to the square juices bottles, and to Florida's Natural Growers/Citrus World and Hammer Lithograph for Florida's Natural Juices. The vend machine bottles are decorated with Label-Lyte®LS-447 film that provides scuff resistance, low curl attributes, and moisture resistance.
Companies in this article