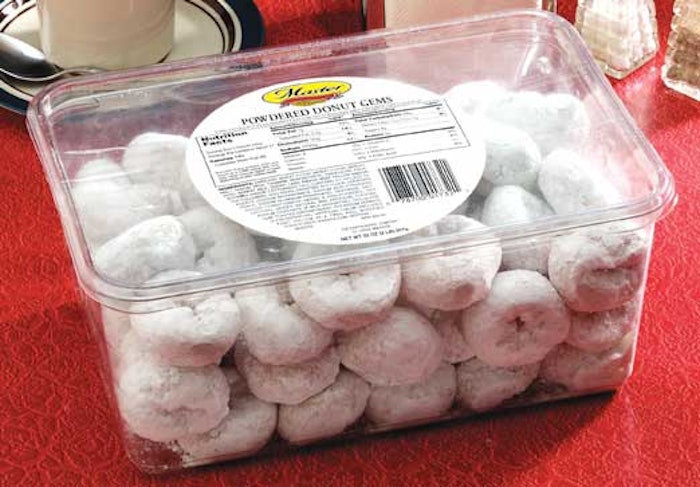 Stone Plastics supplies both.
Filling, lidding, labeling, and sealing by hand were suitable enough for the recent launch of the new pack, but it soon became clear that labeling and sealing had to be automated. SLBG found the equipment it needed at Loveshaw.
Through its distributor Fastrak, Loveshaw supplied a pressure-sensitive labeler that applies a large paper label on each lid. It's coupled with a Loveshaw taping device that applies a clear film tape over the label and part way down two sidewalls of the 4" deep container. The tape secures the snap-fit lid to the container.
The first paired labeler/taper system was installed within eight weeks of SLBG's initial request. Certain modifications of shaft bushings and seals had to be made to address the presence of powdered sugar in places it didn't belong. But these adjustments were made quickly and the problem didn't reoccur. The original paired Loveshaw machines, running 35 packs/min, have since been joined by two similar pairs. The Loveshaw equipment is on wheels so that it can be moved in and out of production as needed.
Considering the relative fragility of the plastic container and the perishability of the product itself, "We're pleased with the Loveshaw solution," says SLBG plant manager Steve Vial. "We average more than 30ꯠ PET containers per week with an estimated running time of 60 hours, and the system has performed flawlessly."
Companies in this article