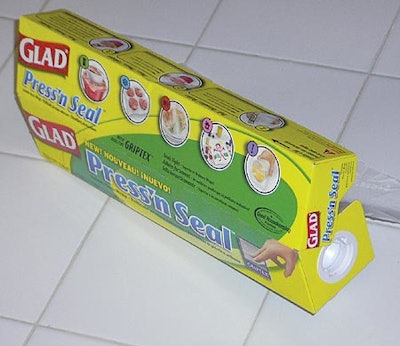 Two of them come from Clorox, Oakland, CA. The first is its Press'n Seal, a new household film product with a pressure-activated adhesive for leakproof seals on household containers. First, this is a whole new product: the adhesive system, Griptex, is said to be the result of a joint-venture agreement between Clorox's Glad Products Co. and Procter & Gamble. In fact, the box copy states that the product is licensed under no fewer than seven separate patent numbers.
But what makes the packaging most interesting is the use of molded plastic end caps to keep the roll suspended inside the folding carton. As some of you know, some household film boxes have perforated panels on each end that, when pressed in, will perform a similar function of holding the roll in position, but not suspended inside the carton. Loading the roll of the very pressure-sensitive film into the box must be quite a challenge.
In addition, you might call this a "NAFTA package" because it's one of the few consumer products I've seen that is fully trilingual with French, English and Spanish displayed throughout the elaborate printing of the package. However, "because of competitive reasons," Glad Products declined to share any packaging specifications, according to Jennifer Barnhart, a company spokesperson.
Another from Clorox is one that I would have missed if it hadn't won an award from BusinessWeek as one of the Best Products of 2003: the Clorox Bleach Pen. This dual-tipped, bullet-shaped pen holds 2 oz of Clorox bleach in gel form for easy and safe application to apparel or tile grout in the home. Its tag line is "bleach what you want to bleach and nothing more." The package copy says it can be used on tough stains like grass, red wine, or berry juice, as well as mold and mildew. The pen is merchandised in a conventional carded blister pack.
Although questions about the pen, dispensers, and package were submitted to Clorox, no answers about them were forthcoming.
But easily the winner in this derby of frustration is a new foil overwrap for sleeves of golf balls from Spalding. During the heart of the golf season in northeastern Wisconsin, I spotted the package at a local retailer and began a lengthy and fruitless effort to learn more about the package change.
As you can see from the photo, a violator proclaims: "New packaging, 54% less waste than previous packaging." The golf balls are in conventional three-ball windowed cartons that are held together by the overwrap. The heavy-gauge foil-and-film lamination (my guess) replaces a conventional set-up box and lid. That combination had been used for most golf ball packaging since I first began playing the game with hickory-shafted mashies and niblicks.
As frustrating as making a sizable number of unreturned phone calls about the packaging has been, that was multiplied by having brand new golf balls sitting on my desk as I watched our limited golf season fade from green into snowy white.
Still, here are three more examples of innovation in packaging from 2003. Let's hope 2004 is even more fruitful in creative packaging.
See an archive of Arnie Orloski's Pipeline columns at packworld.com/pipeline.
Arnie can be reached at orloski@packworld.com
Companies in this article