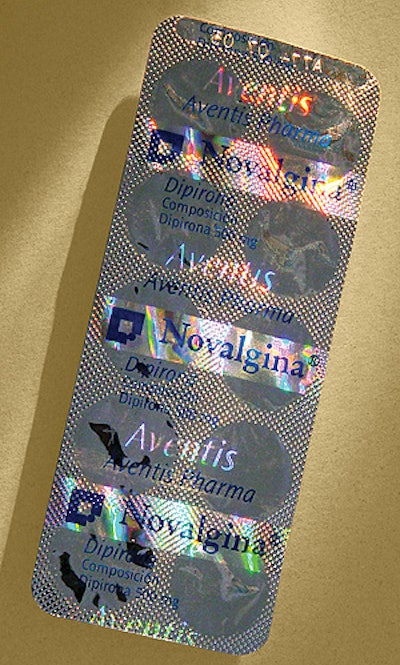 Counterfeit packages were giving Aventis Pharma Argentina a painful headache, particularly for its popular Novalgina analgesic tablets.
To relieve its pain, representatives from the company's site in San Isidro, Buenos Aires, Argentina, began working with Argentinian representatives from Hueck Foils in 2001.
"Novalgina tablet [packages] have always been counterfeited," says Claudia Ponce, quality operations manager at Aventis Pharma. "It significantly reduced Novalgina sales, especially in 2001 and before. Apart from the economic harm, it [counterfeiting] could become a risk to the patient. Counterfeits come from Paraguay and Argentina.
"The aim was to find a primary packaging alternative to reduce the possibility of counterfeiting," she continues. "Hueck had developed its Protecco® [anticounterfeiting blister foil] program that combined several security elements and achieved reliable results."
The San Isidro plant used Protecco to replace previous materials that Ponce says were "good at the time we adopted them, but there is a constant need of looking for new technologies in order to avoid counterfeiting. The older the technology, the easier it is to counterfeit."
Hueck supplies Aventis Pharma with rollstock lidding that is based on a 20-micron-thick sheet of aluminum foil. A heat-seal coating on one side bonds to the polyvinyl chloride that's formed into cavities that hold the Novalgina tablets. On the other side of the foil, Hueck applies the holographic web that's printed gravure in one color in registration to the hologram. Printing displays the Aventis and Novalgina names and some product information. The lidding material is topped with an overlacquer. Hueck declined to specify the holographic web or the specific converting steps.
The San Isidro facility houses 11 packaging lines. Aventis uses Hueck materials for multiple products and sizes, though Novalgina is the only one that uses a holographic foil material. This material "gives us the possibility to add new security measures" in the future, says Ponce. According to Hueck, additional security measures such as an ultravoilet-readable feature, could easily be added for additional security if necessary, though the technology to make holograms is fairly sophisticated.
"It's unique to the market," and it meets Aventis Pharma's "concern about the counterfeiting of pharmaceutical products, as it is a serious problem that affects the lives and health of individuals," Ponce says.
The European Aluminum Foil Assn. awarded the pack its 2002 EAFA Foil Pack of the Year. In a press release, EAFA noted the pack represented "a significant step forward in both product identity and security." It mentioned that standard aluminum foil was still used for the push-through blister pack, which would not affect its machinability. At the same time, EAFA said the hologram "gives the highest level of brand and product protection. The graphic effect brings to the user a new level of perceived value, confidence, and brand identification."
Companies in this article