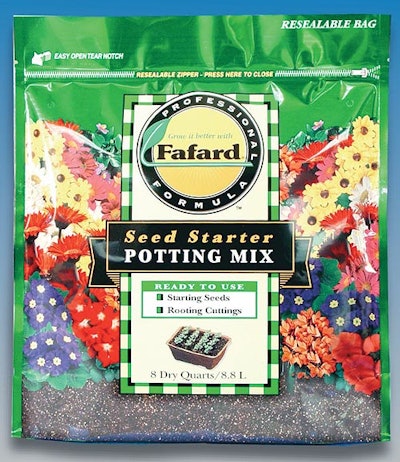 Introduced nationally in late spring '03 at independent garden centers where it sells for $3.99, the stand-up pouch earned a Flexible Packaging Assn. Printing Gold award for Genpak LP.
The 48-ga PET/48-ga metallized PET/2-mil PE structure is supplied premade as 8-dry-quart 14''x16'' gusseted bags by Genpak to Agawam, MA-based Conrad Fafard operations in the United States and Canada. The gusset is 5'' wide.
The graphics were reverse-printed flexographically in nine colors using digital plates on a Fischer & Krecke 10-station wide-web press Genpak installed in mid-2002. "This gearless press allows the package to be printed in perfect and consistent registration," says Genpak prepress manager Bill Reilly. The special fade-resistant inks are supplied by Sun Chemical. The zipper material is standard and from any of several sources, Reilly says. Fafard did its own graphics design.
"We wanted a nice presentation, and the metallic underlayer adds a bit of shine," says Fafard art director Charles Ratterree, who is also the company's buyer of flexible materials. "Shelf presence in the lawn-and-garden category is very important." He also credits GMF Flexo Pre-press for its exemplary prepress work.
The design was separated and printed via Opaltone Seven Color Process™, which uses three colors more than traditional four-color printing. Additionally, two more colors, white and black, were used for Fafard. The single-pass, nine-color result, Reilly says, is that "we are able to get much more color depth and brightness."
"The people involved in this project did a fabulous job, and I couldn't be prouder of the result," Ratterree says. "This product has exceeded our sales expectations." Fafard is set to launch five more products in the same package this spring.
Companies in this article